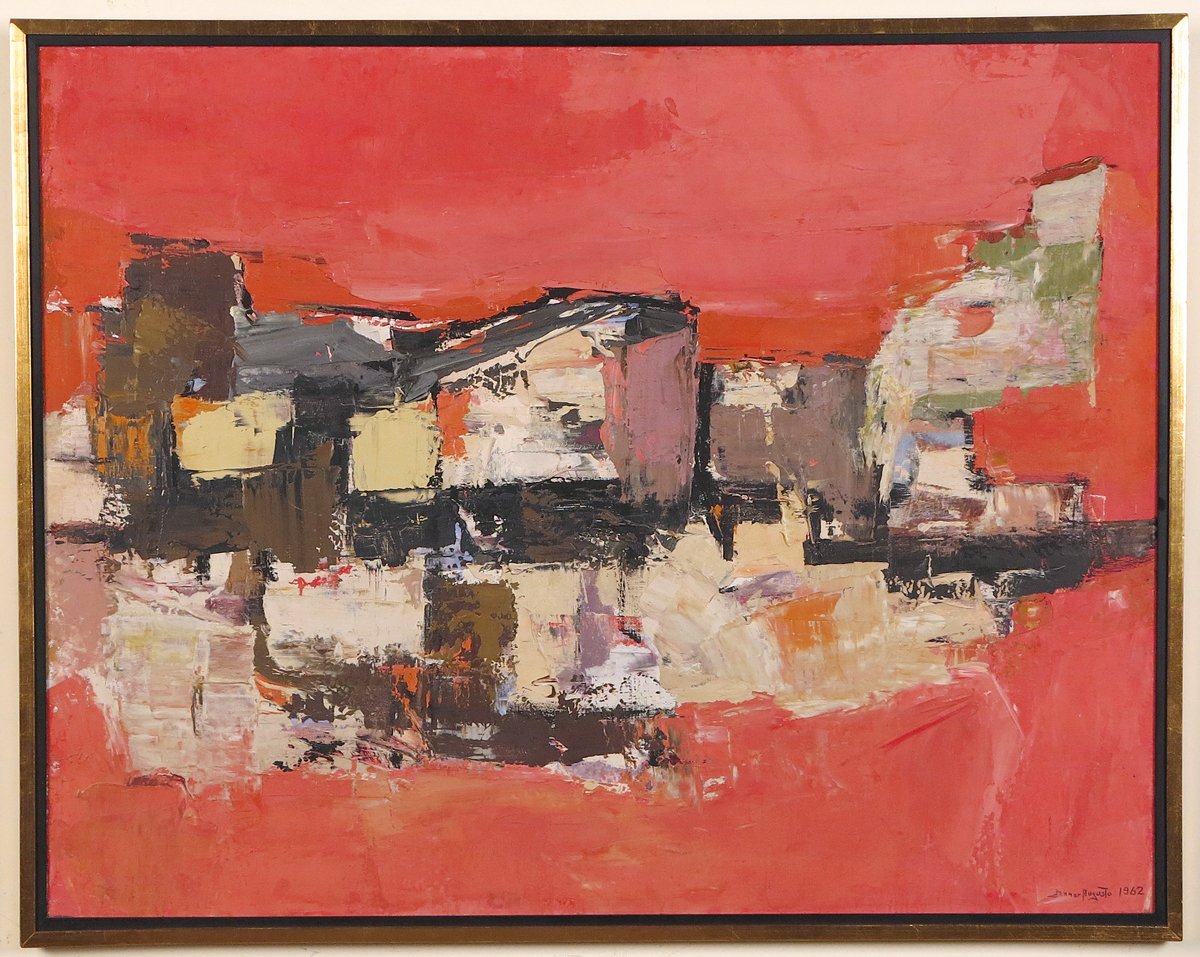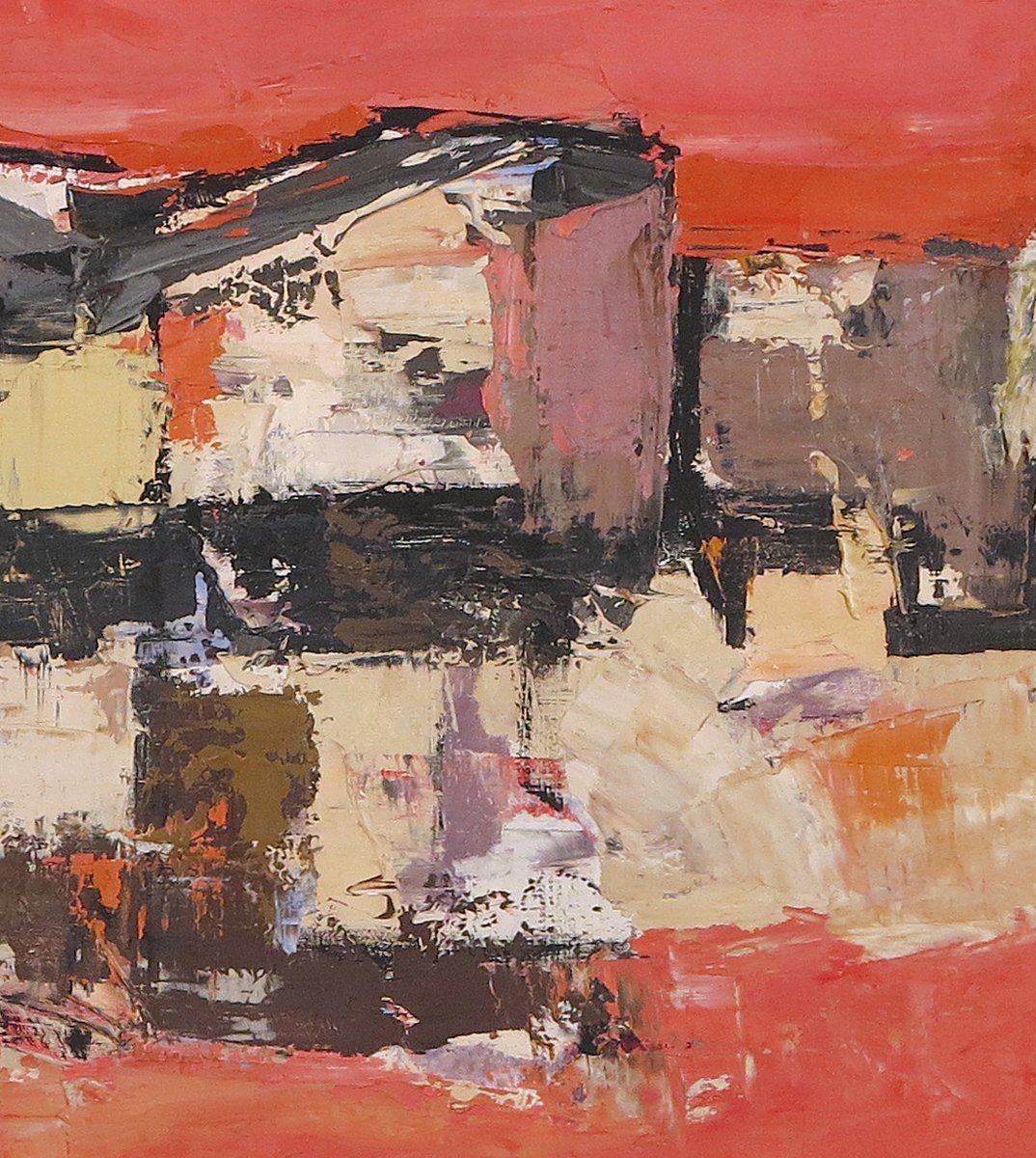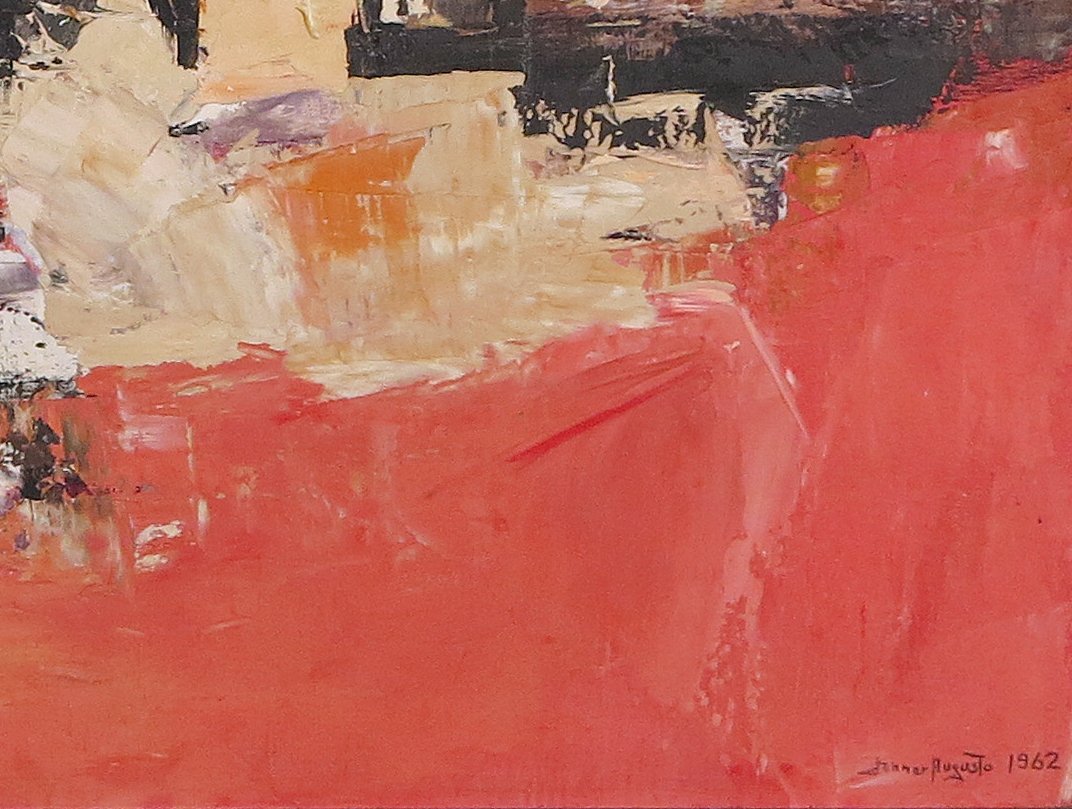 Brazilian, 1924-2003
Abstract
Oil on canvas
27 ½ by 35 ½ in. W/frame 29 by 37 in.
Signed and dated "Jenner Augusto 1962" in lower right
Inventory Number: Art A46
See Artist Bio below.
Brazilian, 1924-2003
Jenner Augusto da Silveira (Aracaju SE 1924 - Salvador BA 2003). Painter, cartazista, illustrator, designer, writer. Reside in several cities of Sergipe. The Lizard city holds posters for the local cinema. In Orange, around 1940, studying painting of Horace Time . Returns to live in Singapore in 1944, when it dedicated to painting and works in trade. In 1949, conducts free panels in modernist style to the decor of the Bar Cacique. In 1949, he moved to Salvador, and works as an assistant in the studio of Mario Cravo Junior . At that time, participates with Lygia Sampaio and Rubem Valentim controversial show New Artists Baianos held in the Historical and Geographical Institute of Bahia. Develops in the city some plastic works Custom, highlighting the fresco Evolution of Man, for the Carneiro Ribeiro Educational Center, conducted between 1953 and 1954.
He travels to Rio de Janeiro to expose individually, and knows Candido Portinari and José Pancetti , the recommend to the criticism and collectors. Still knows James and Jorge Amado. In the 1960s, constantly paints the Alagados neighborhood and landscapes of Salvador. In 1966, he receives invitation to inaugurate the Baianos shows in Philadelphia. The following year, he traveled through France, Italy, Holland, England and Belgium, where he met Paul Delvaux. On trips, make notes, studies and drawings, editing them in an album, published in 1970. It illustrates the book by Jorge Amado Tent of Miracles. There are at least three books on his work:Jenner:
The Modern Art of Bahia, Roberto Pontual, published by Editora Brazilian Civilization, The Alagados Jenner, an album with five serigraphs and text Adonijah Son, published by Editora Ranulpho Art, and a book-album called Jenner,with reproductions of his work, in color and black and white, from the earliest work, published by the Government Printing Bahia.
Top