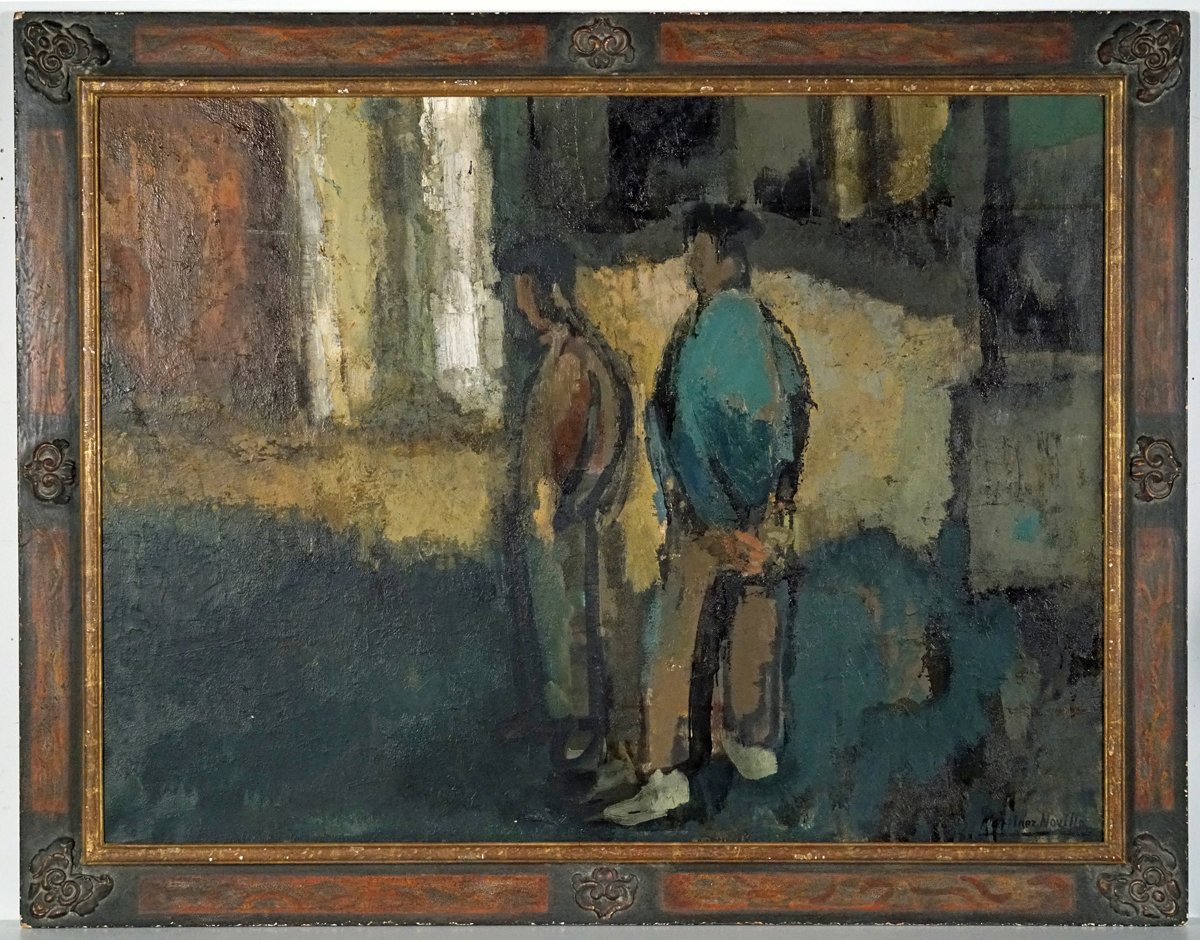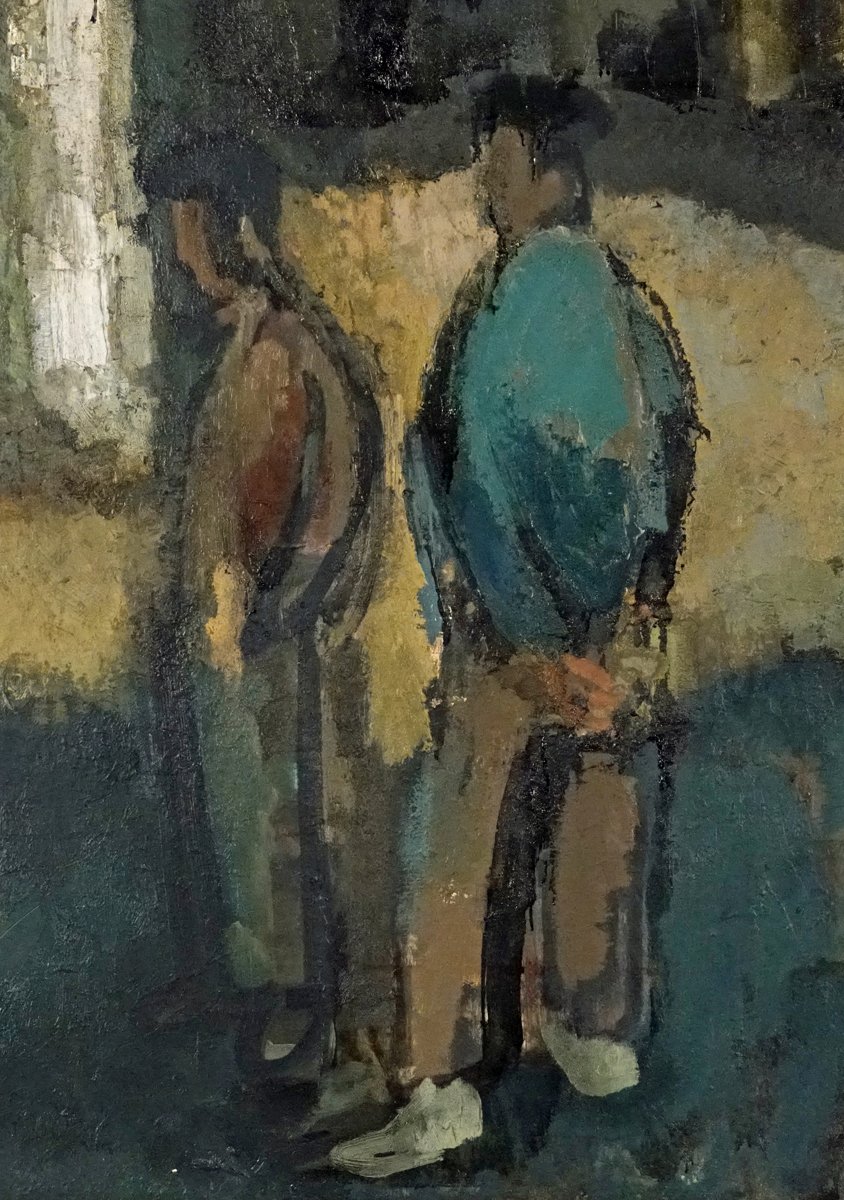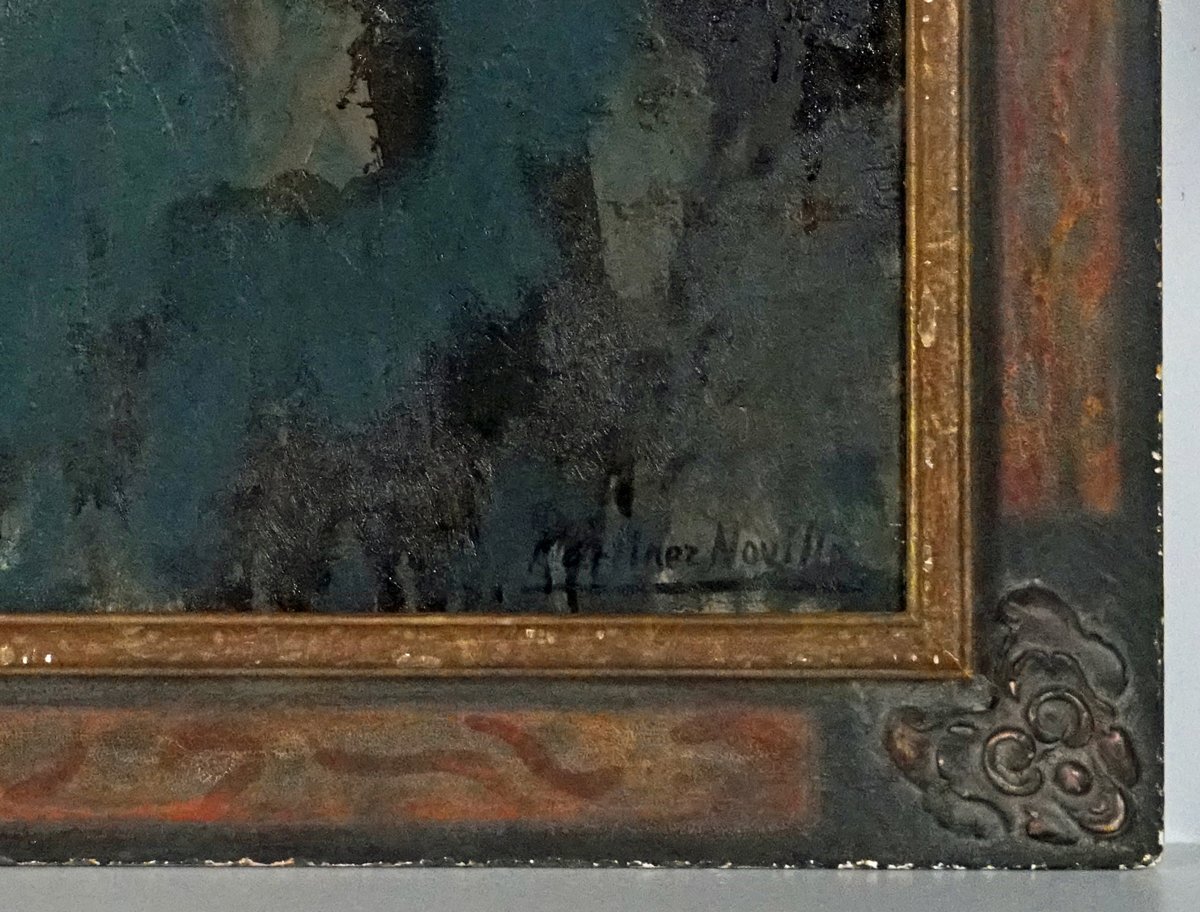 Spanish, 1921-2008
Figures
Oil on canvas
38 by 51 in. W/frame 46 by 59 in.
Lower right
Provenance:
Frances Lehman Loeb Art Center, Vassar College
Le Trianon Fine Art & Antiques
Inventory Number: Art N44
See Artist Bio below.
Spanish, 1921-2008
Spanish painter, born in the village of Vallecas, Madrid, in 1921 and died in Madrid, on July 15, 2008. His training was conducted at the school of Arts and crafts in Madrid and, later, at the Superior School of painting, sculpture and engraving, where he had the opportunity to study with Daniel Vázquez Díaz and lock knowledge with some of the artists linked to that was called "School of Madrid", characterized by a special treatment of the Castilian landscape. During this time he also collaborated with some newspapers and magazines in which wrote the intelligentsia of the time. After the Civil War he was imprisoned for some time; at his release from prison he made sketches of copies of films for carpets of Luis XV, XVI, Regency, Chipendale style, and travelled to Paris three times to extend knowledge. His work, which falls within the figurative line, consists of still lifes and figures during this first stage, but then he went on to paint landscapes, issue that has been a constant in the rest of its production.
His works are admired in particular from Spain and abroad collections and contemporary art Madrid, Bilbao Fine Arts Museum and the Provincial Museum of Oviedo. The recognition that taxed him national and international criticism is reflected in the numerous prizes and awards he received throughout his career, which include the first medal of the national exhibition of fine arts, award of paintings of the Bienal Hispanoamericana of Cuba, gold mill of the exhibition La Mancha of plastic arts, and Medal of Gold Casino in Salamanca.
Individual exhibitions:
(1947) Gallery Buchholz, Madrid. (1948) Museum of modern art, Madrid. (1950) salons Macarrón, Madrid. (1950) Santander, Proel Gallery. (1952) Hall books, Zaragoza. (1958) room of the General direction of fine arts, Madrid. (1959) escuela de Bellas Artes de San Eloy, Salamanca. (1961) room art, Bilbao. Caja de Ahorros, Oviedo. (1964) Galerie Epone, Paris, thanks the grants awarded by the French Institute and the Fundación Juan March. (1964) Galerie Burdeke, Zurich. (1967) Gallery Müller, Switzerland.
Exhibitions:
Cirilo Martínez participated in various biennials and exhibitions of painting, which include some as: (1950 and 1954) Venice Biennale. (1952) "I Bienal Hispanoamericana de Arte", Museo de Arte Moderno, Barcelona. (1953) "The school of Madrid", Sala Macarrón, Madrid. Fair international, New York. "Contemporary painting", Lima. "Spanish art", Mexico. (1988) "Painting for a collection" Gallery Juan Gris, Madrid. (1990) "Exhibition anthological exhibition of the school of Madrid", House of del Monte, Madrid.
Top