Alphonse Victor Baumann
French, 1826 -1909
Alphonse was an artist, widely known and a good friend to the famous Alsacian artist Henner, who had opened a museum in Paris. He was fond of painting horses in a realistic style, close to the artist Rosa Bonheur. He was quite well known and some of his paintings still hang in the Belfort museum which he founded. His son Victor also studied art work but joined the military rather than follow his father's career as an artist.
The following was mentioned by the curator of the Belfort Museum regarding Alphonse.
When he was 18, he left his native Alsace and went to Paris where he attended course of the "Beaux Arts" for many years. Around 1848, after having finished his course, he went to Europe in order to complete his art education. He stayed in Germany for 2 years. Coming back to France, he worked in Mulhouse and Strasbourg for a while and went to Spain where he lived for many years. He worked for the Saragosse-Alicante railroad Company (I think in Madrid). He spent his free time painting, drawing and collaborating on the "Monde illustré" review which published his drawings and topical sketches. He came back to Belfort where he made remarkable drawings of the "Prussian occupier" which were published in the "Monde illustré"
In 1873, he was the first art teacher (fondly called "Father Baumann" by his students) at the new lycee (high school) of Belfort. He taught there from 1873 to 1890. One of his students was Georges Bretegnier, an orientalist painter-to-be who had a great deal of talent.
In 1878, Georges Bretegnier was the first prizewinner at the "concours général" (which is a competitive examination with prizes, open to highschool students). Georges Bretegnier's prize brought Alphonse Victor Baumann an award.
From 1878 to 1909, Alphonse Victor Baumann was the curator of the Belfort Museum. There are numerous incisive works there especially the "Marché aux chevaux" (Horses market) and Louis Parisot's portrait, Mayor of Belfort.
Femme Cueillant des Fleurs dans un Champ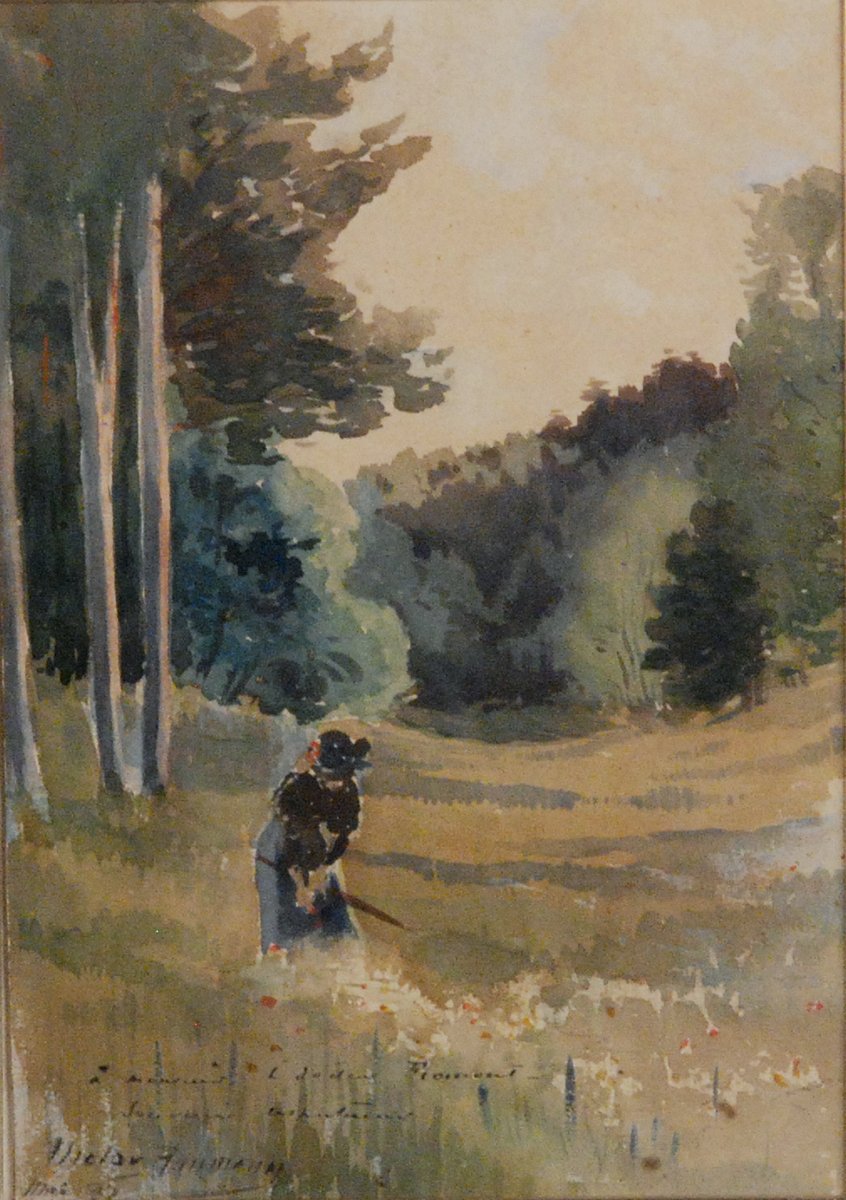 Top