Donald Raymond David
American, 1906-2006
Donald Raymond David was born in Springbrook, Oregon in 1906. He attended Fresno State College in 1927 and studied with Alexandra Bradshaw. By the 1930s Don David was in Los Angeles, where he studied with Barse Miller and attended the Chouinard Art Institute and the Art Center School.
From the mid-1930s to the early 1940s he lived in Sacramento and exhibited at Sacramento's Kingsley Art Club from 1934 to 1943. Throughout the 1940s David also exhibited at the San Francisco Museum of Art, the Oakland Art Gallery, the Glendale and Laguna Beach Art Associations, and the California Water Color Society. David had a solo exhibition at Los Angeles' Francis Webb Galleries in 1946, and exhibited with Milford Zornes at the Laguna Beach Art Gallery in 1947.
By the late 1950s David had relocated to New York City, where he attended the Hans Hofmann School and had frequent solo shows at the Camino Gallery throughout the 1960s and early 1970s, as well as a solo show in 1965 at the New School. In 1960, David's work was included in a show at the Bolles Gallery in San Francisco that featured New York artists and was titled New York's Tenth Street. A New York Times article about the show by critic Alfred Frankenstein described David's abstract works as having "a virtuoso's tracks of movement, pressure, stroke and texture."
David was an instructor at the Newark School of Fine & Industrial Art in New Jersey in the late 1960s, and he continued as a teacher and lecturer into the early 1980s, when both he and his wife, artist Andree Golbin, taught at New York's Parsons School of Design.
This painting was exhibited at The Museum of Modern Art "MoMa"
Exhibited:
Museum of Modern Art
Corcoran Gallery Art,
Kingsley Art Club, 1934-43;
San Francisco Museum of Art, 1940, 1946;
Oakland Art Gallery
Camino Gallery, New York, 56,58, & 60
Alonzo Gallery, 69-72
Source:
Edan Hughes, "Artists in California, 1786-1940"
Who's Who in American Art, pg 278
Sacramento Union, 8-10-1941, p.8.
Abstract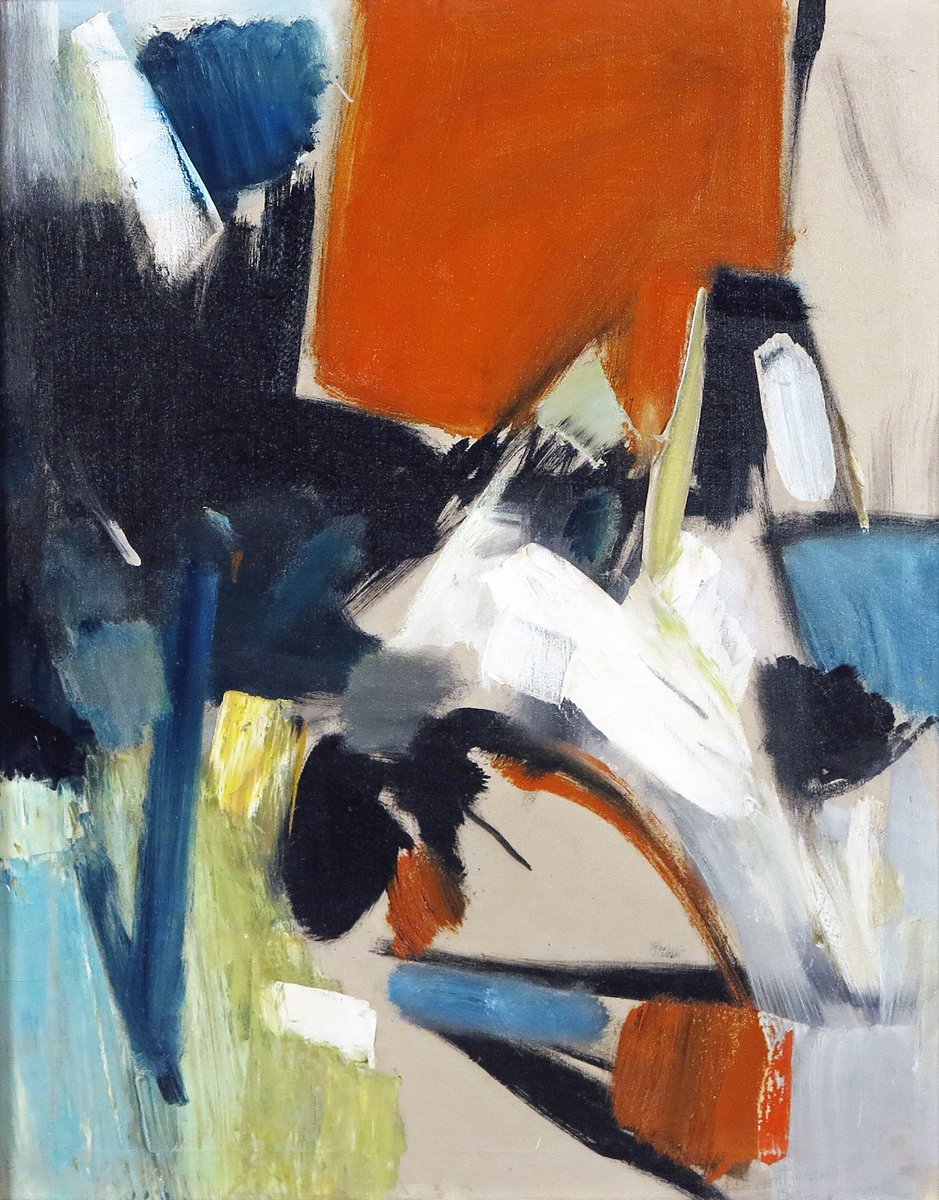 Top