Lowell Nesbitt
American, 1933-1993
Lowell Nesbitt was one of the most celebrated and noted artists for his floral works of art. An artist with a highly personal style, Nesbitt made realistic studies of many themes throughout his career. His most well known series, and perhaps his most beautiful and poetic, are the more than four hundred works he created using the flower as the theme. Since his first show in 1957, Nesbitt has had more than eighty, one man shows. His painting, drawings and prints are included in the collections of many prestigious museums such as the Metropolitan Museum of Fine Art in New York, and the National Gallery of Fine Art in Washington, D.C. In addition, his works are held in many private and public collections worldwideLowell Nesbitt was born in Baltimore on Oct. 4, 1933, was a graduate of the Tyler School of Art at Temple University in Philadelphia and also attended the Royal College of Art in London, where he worked in stained glass and etching. He often said that a stint working as a night watchman at the Phillips Collection in Washington inspired him to paint. Known for Huge Flowers.
In 1964, the Corcoran Gallery of Art in Washington gave him one of his first museum exhibitions, and by the mid-1970's he had decided to leave the museum a bequest of more than $1 million. But in 1989 Mr. Nesbitt publicly revoked the bequest after the Corcoran canceled a disputed exhibition of photographs by Robert Mapplethorpe, who was an old friend. Mr. Nesbitt named the Phillips Collection as a beneficiary instead.
Mr. Nesbitt was frequently grouped with the Photo Realists, but his images were more interpretively distorted, somewhat loosely painted and boldly abbreviated. He had many subjects: studio interiors, articles of clothing, piles of shoes and groupings of fruits and vegetables. He also painted his dog, a Rottweiler named Eric; the Neo-Classical facades of SoHo's 19th-century cast-iron buildings and several of Manhattan's major bridges.
Despite such variety, Mr. Nesbitt was best known for gargantuan images of irises, roses, lilies and other flowers, which he often depicted in close-up so that their petals seemed to fill the canvas. Dramatic, implicitly sexual and a little ominous, they earned the artist a popularity with the general public that tended to overshadow his reputation within the art world.
In 1980 the United States Postal Service issued four stamps based on Mr. Nesbitt's floral paintings. He also served as the official artist for the space flights of Apollo 9 and Apollo 13.
Two Lilies on Beige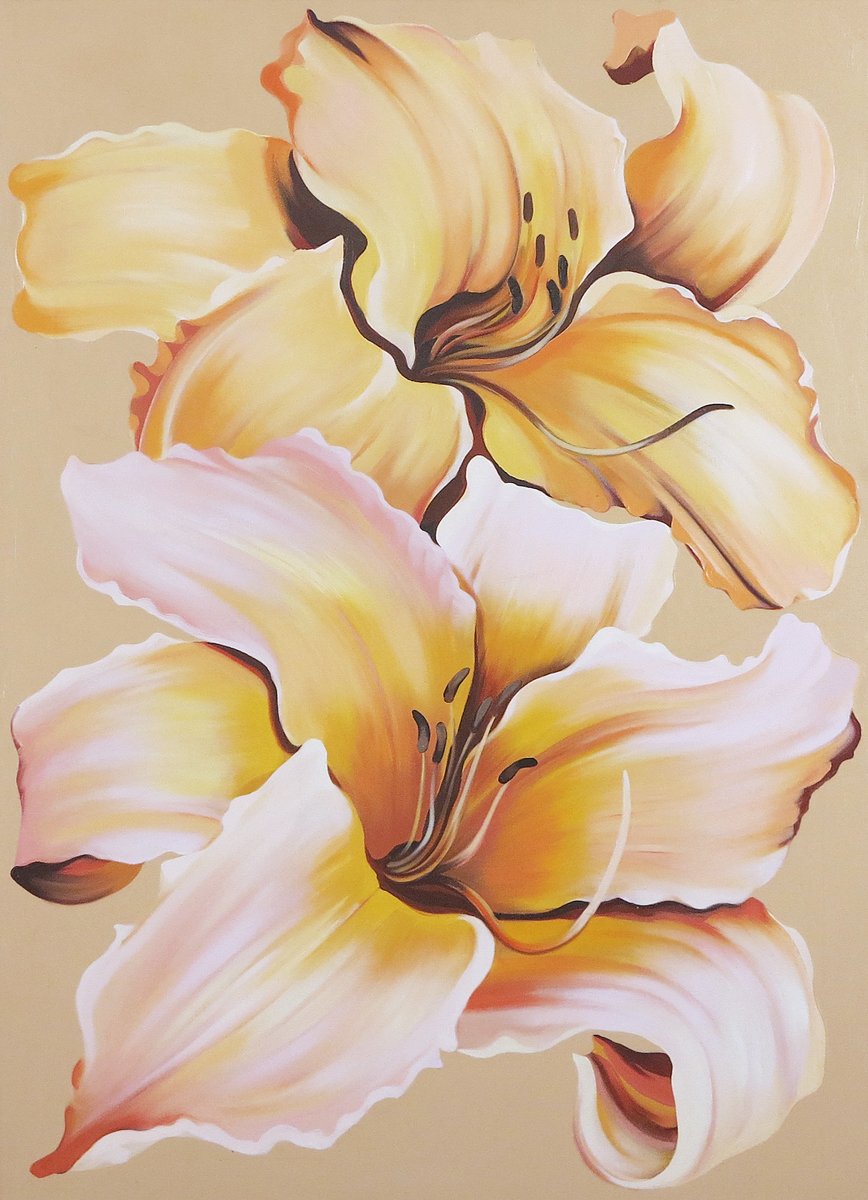 Top