Paul Desire Trouillebert
French, 1829–1900
Paul Désiré Trouillebert was born in Paris in 1829 and died in the city June 28, 1900. He is considered a portrait, genre and landscape painter from the French Barbizon School. He was a student of Ernest Hébert [1817-1908] and Charles-François Jalabert [1819-1901], and made his debut at the Salon of 1865, exhibiting a portrait. At the Paris Salon of 1869, Trouillebert exhibited "Au bois Rossignolet", which was a lyrical Fontainebleau landscape that received great critical acclaim.
Trouillebert concentrated on portraits until about 1881, when he began to focus on atmospheric silvery landscapes steeping in cool damp color. In 1882, he exhibited a large landscape titled "Baignneuses" which was well received and helped him gain a reputation as a landscape painter. Another noted work was commissioned by Edmé Piot, a public works contractor. The painting, "Travaux de relèvement du chemin de fer de ceinture: le pont du Cours de Vincennes" (Cleveland Museum) was of a railway project initiated in 1851, after Napoleon III came to power. The commission included four related views of the Paris railway construction, which was completed in February 1889.
After the 1860's, the misty Barbizon landscapes by Jean-Baptist- Camille Corot's [1796-1875] had become astonishingly vogue, which brought about a trove of imitators. His followers and students; Henri Joseph Constant Dutilleux [1807-1865], George Devillers, Achille François Oudinot [1820-1901], Edouard Brandon [1831-1887] and Trouillebert were not trying to mislead the public, he was their idol. However, the greatest confusion has always been over works by Corot and Trouillebert because both artists painted river landscapes at dawn or dusk with a very similar approach, palette and style. Like Corot, Trouillebert painted a wide variety of subjects, including genre scenes, portraits and nudes.
Trouillebert would receive the most attention as a result of an 1883 court case involving one of his paintings. The painting "La Fontaine des Gabourets" had been sold by one of Paris' more prominent dealers George Petit to writer Alexandre Dumas fils. Trouillebert's signature and been removed and resigned Corot. The fake was discovered by Robaut and Bernheim-Jeune and returned to the original seller, Tedesco. Trouillebert, who had nothing to do with the fraud, brought legal action against the guilty parties to regain his reputation and clear his name. The trial made all of the papers and Trouillebert won his case. George Pettit was also cleared because he had purchased the painting in good faith. Both artists benefited from all of the attention brought by the newspaper articles.
Paul Désiré Trouillebert enjoyed a very successful career and a continuous demand for his work. His paintings were included in some the world's most prominent public and private art collections, including that of Edgar Degas, who owned several of his canvases.
Paysage avec Deux Personnages sur un Barque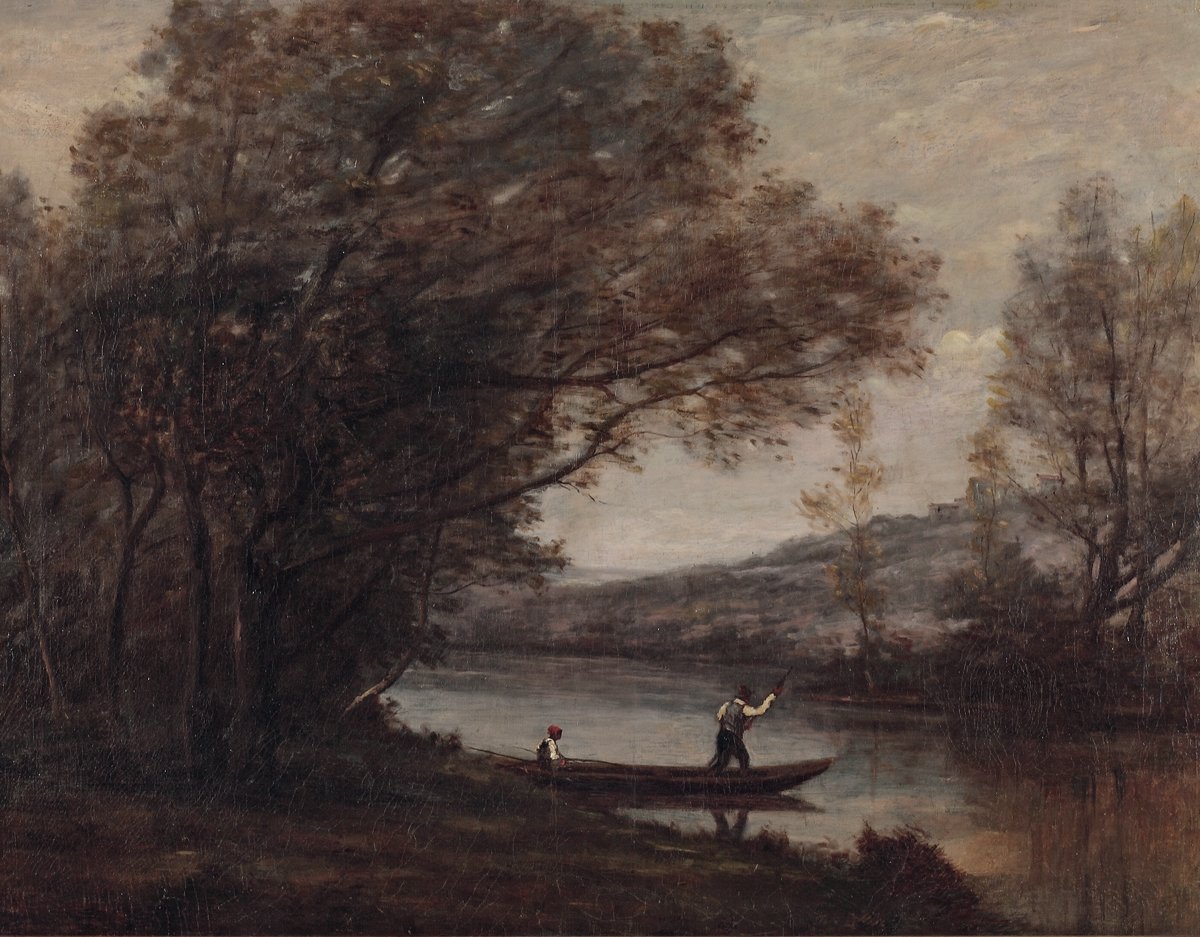 Top