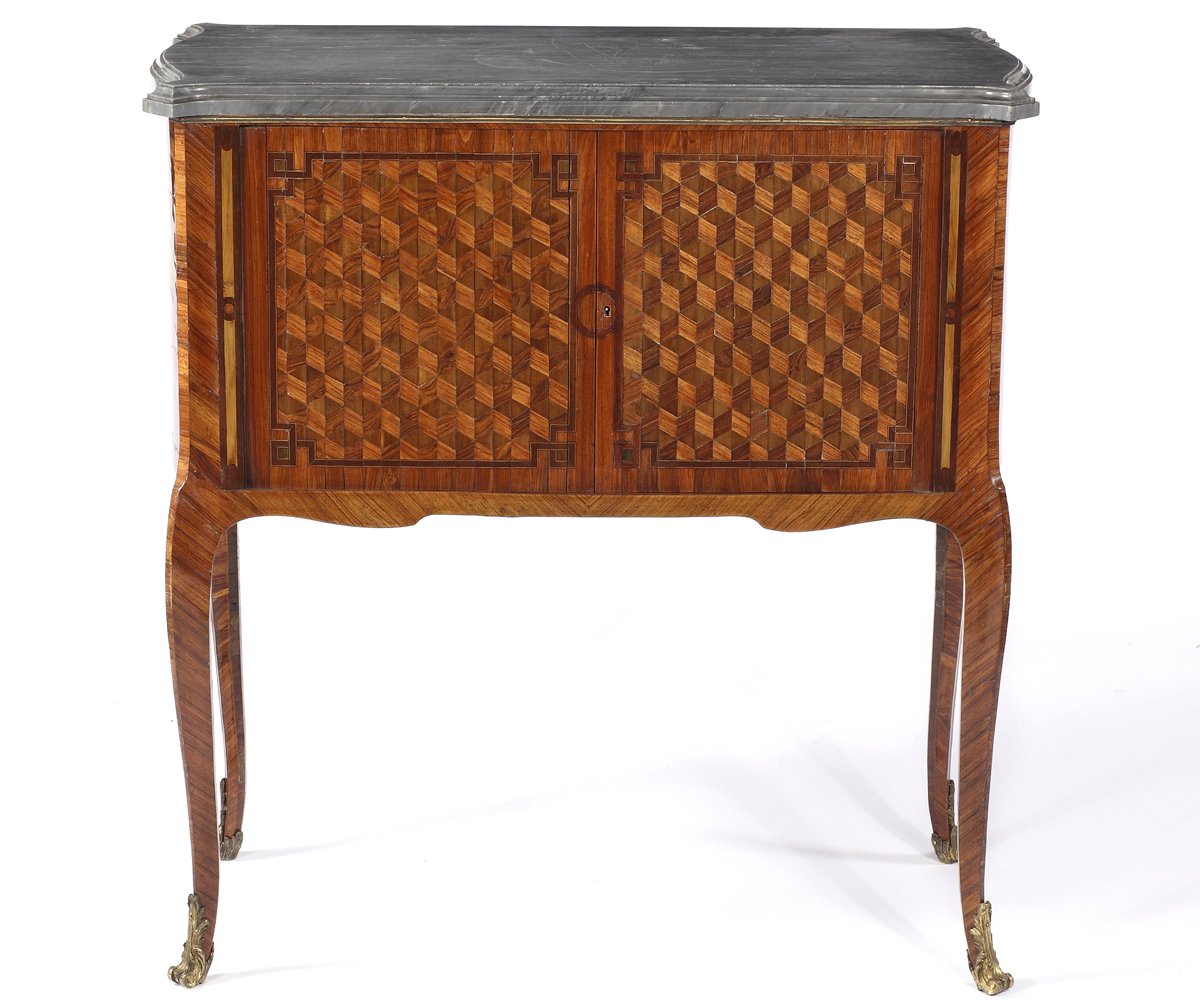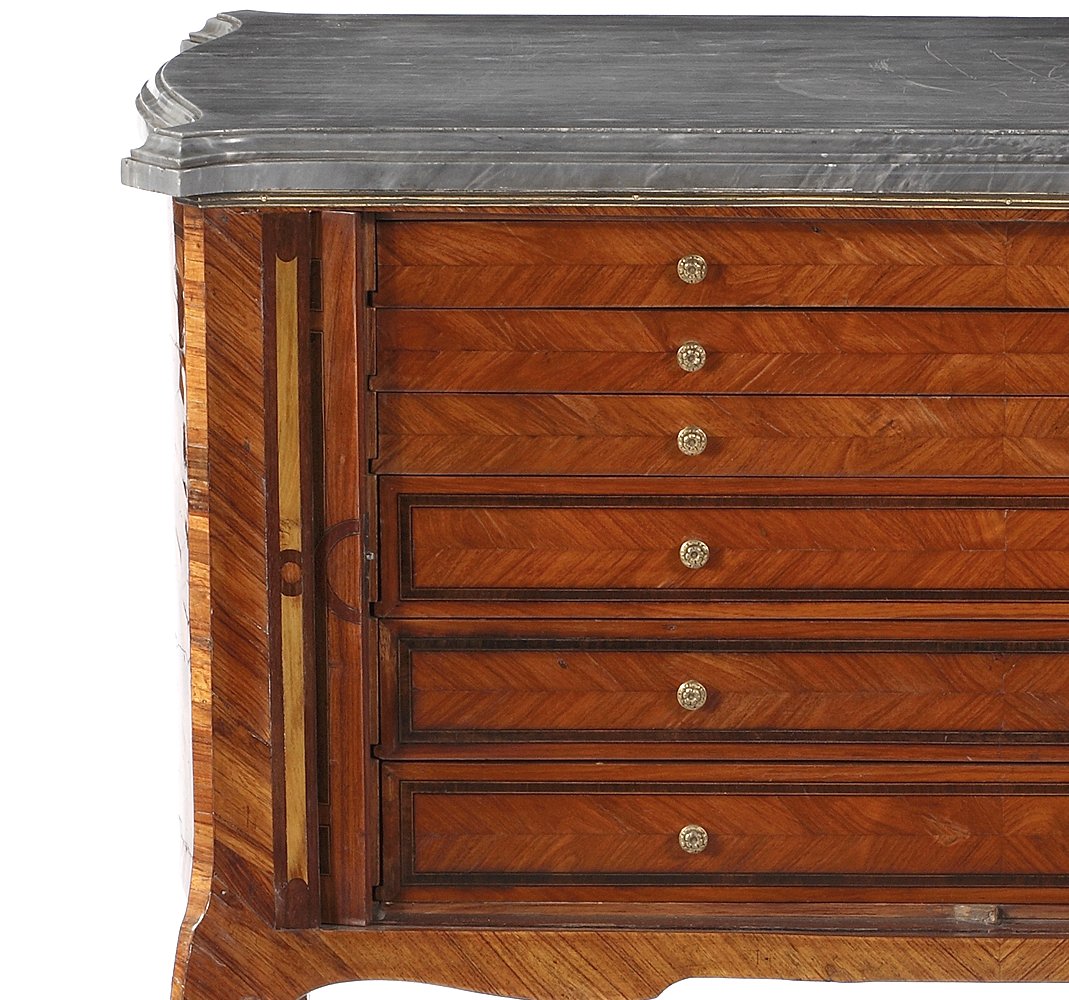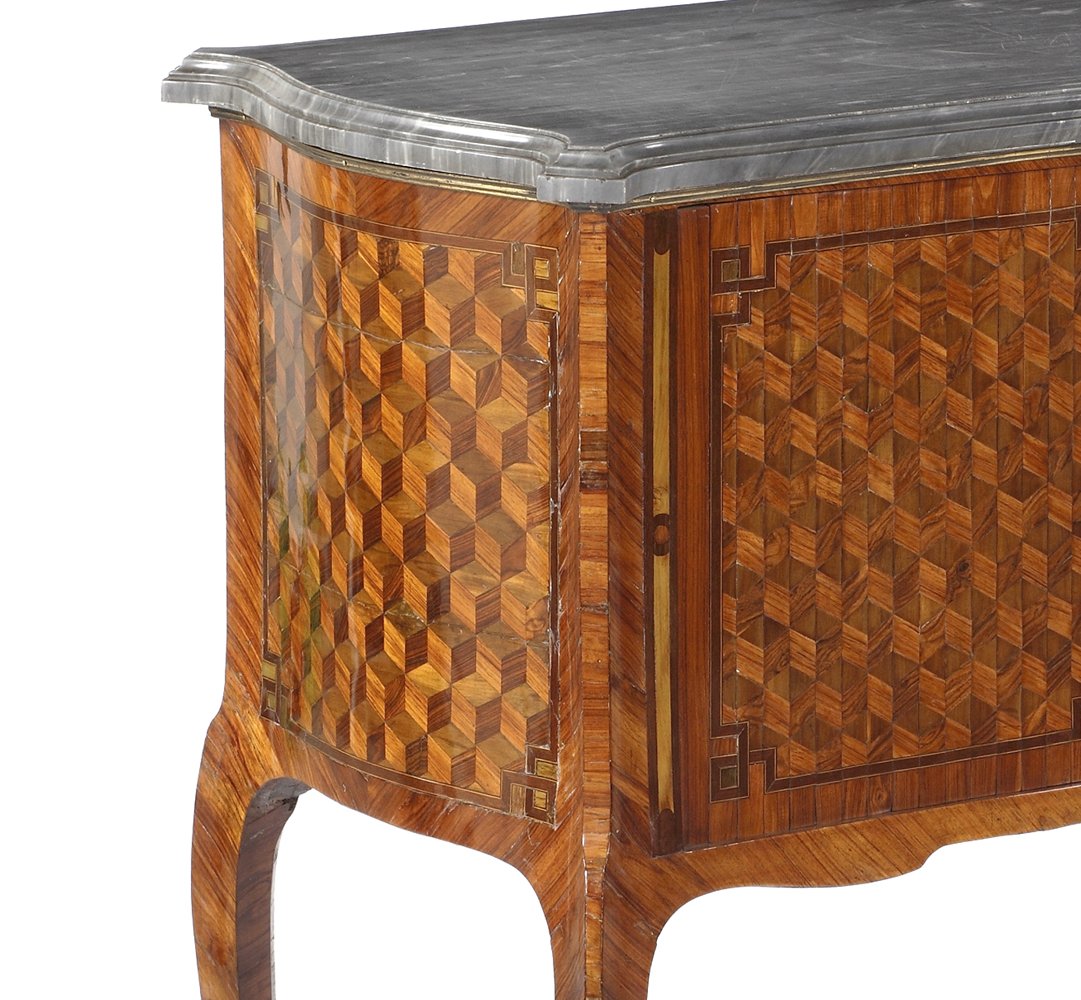 18th Century
Attributed to Jean-François Oeben
The shaped marble top over a shaped cabinet with tulipwood, kingwood & parquetry throughout, with tambour shutters revealing a re-fitted interior with 6 graduating drawers, all over four cariole legs ending in gilt bronze sabots.
Jean-François Oeben, ébéniste du roi in 1754 and maître in circa 1761.
Jean-François Oeben was a sub-tenant of charles-joseph boulle (1688–1751) in the galleries of the louvre from 1751, and in 1754 was granted lodgings at the gobelins and then at the arsenal in 1756. he was appointed ebéniste du roi in 1754 and was therefore able to work outside guild restrictions. he was a protégé of the marquise de pompadour, the marquis de marigny and the duc de choiseul. his identifiable works span less than ten years. his earliest pieces are in the louis xv style (e.g. small table, 1756–8; munich, residenzmus.), and he seems even to have completed some pieces started by jean-pierre latz (e.g. pair of corner cupboards, c . 1750–55; malibu, ca, getty mus.). from 1756 the essential elements of his work were fixed, as seen in the dauphin's desk (c . 1750; versailles, château), in which he still used slightly rounded lines and cube marquetry. he was influenced by the goût grec and his work became more radical. the lines of his commodes became straight, and the top drawer was reduced to a simple frieze; the front was divided by a panel, sometimes with floral marquetry, while the rest was veneered with geometric motifs (e.g. commode, 1760; malibu, ca, getty mus.). he invented tambour shutters for use on secrétaires with doors and roll-top desks, and he revolutionized the technique of floral marquetry, using stained, burr amboina inlaid with combinations of indigenous woods. he was also one of the first cabinetmakers to produce furniture veneered entirely in mahogany. after his death his widow continued to run the workshop with the assistance of jean-henri riesener, and together they finished the magnificent bureau du roi louis xv (1769; versailles, château; see bureau, fig. 2), which oeben had left incomplete.
Provenance:
Private Collection New York, NY.
Le Trianon Fine Art & Antiques
Dimensions:
Height 41 in. Width 38 in. Depth 20 in.
Inv#:
Cab37
Top