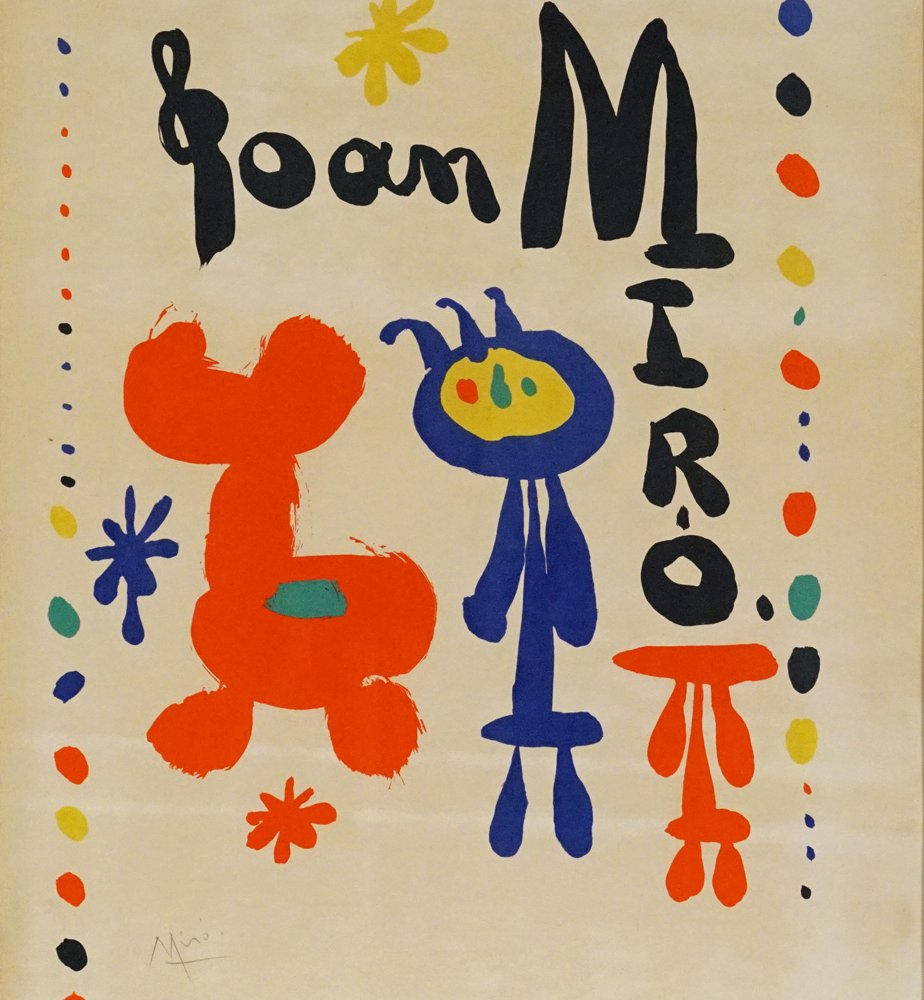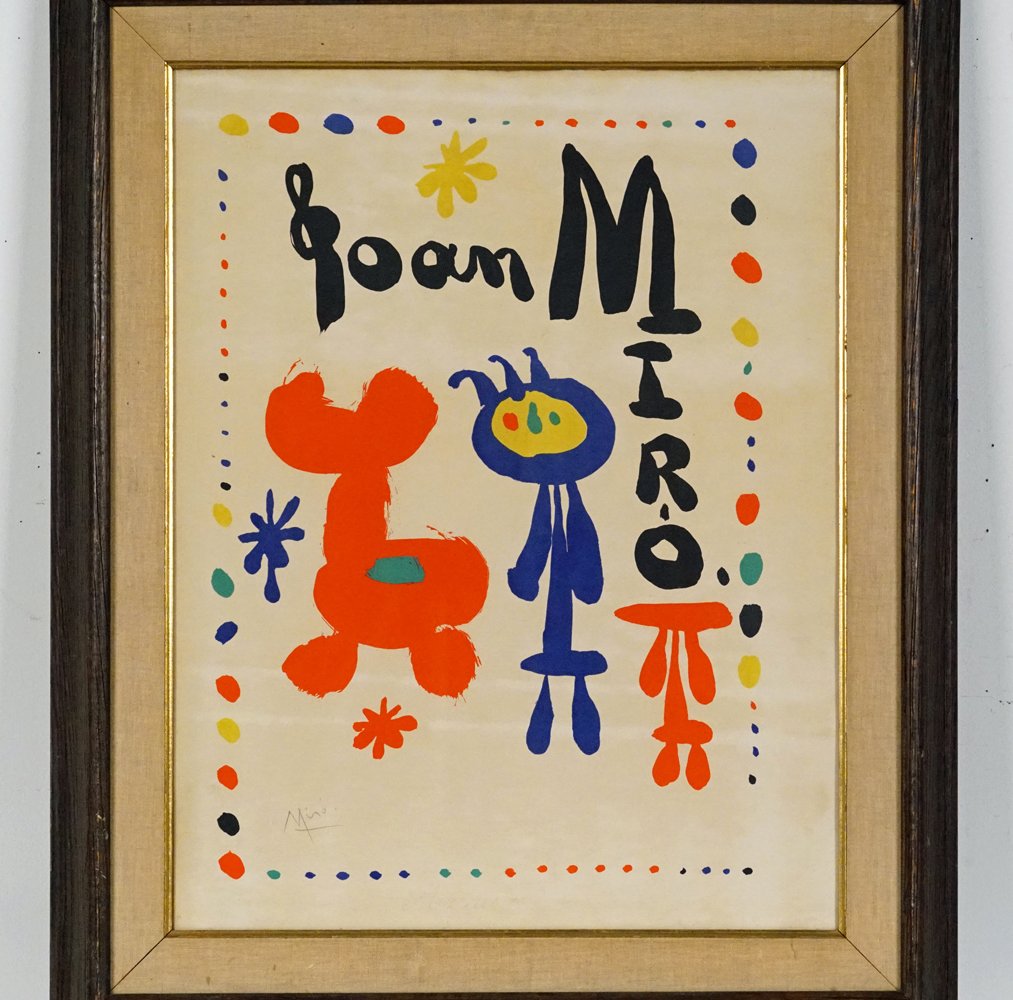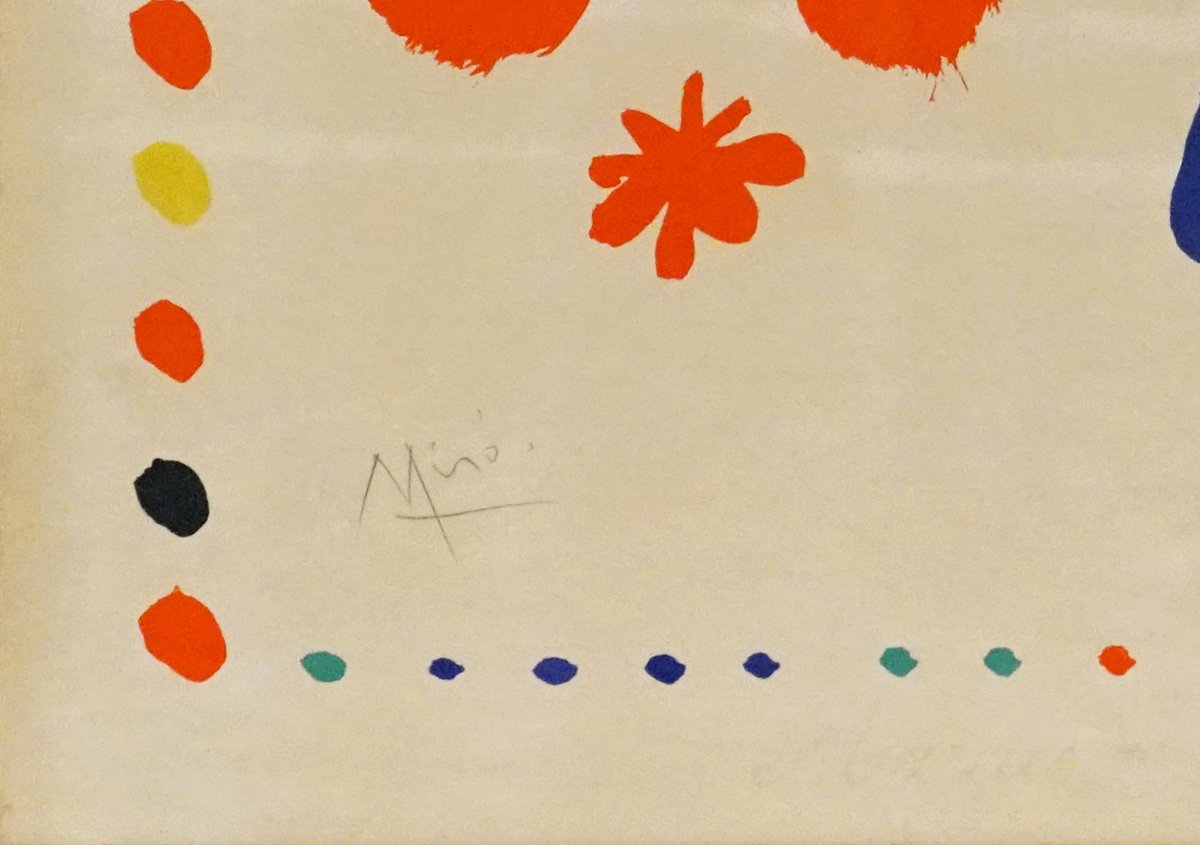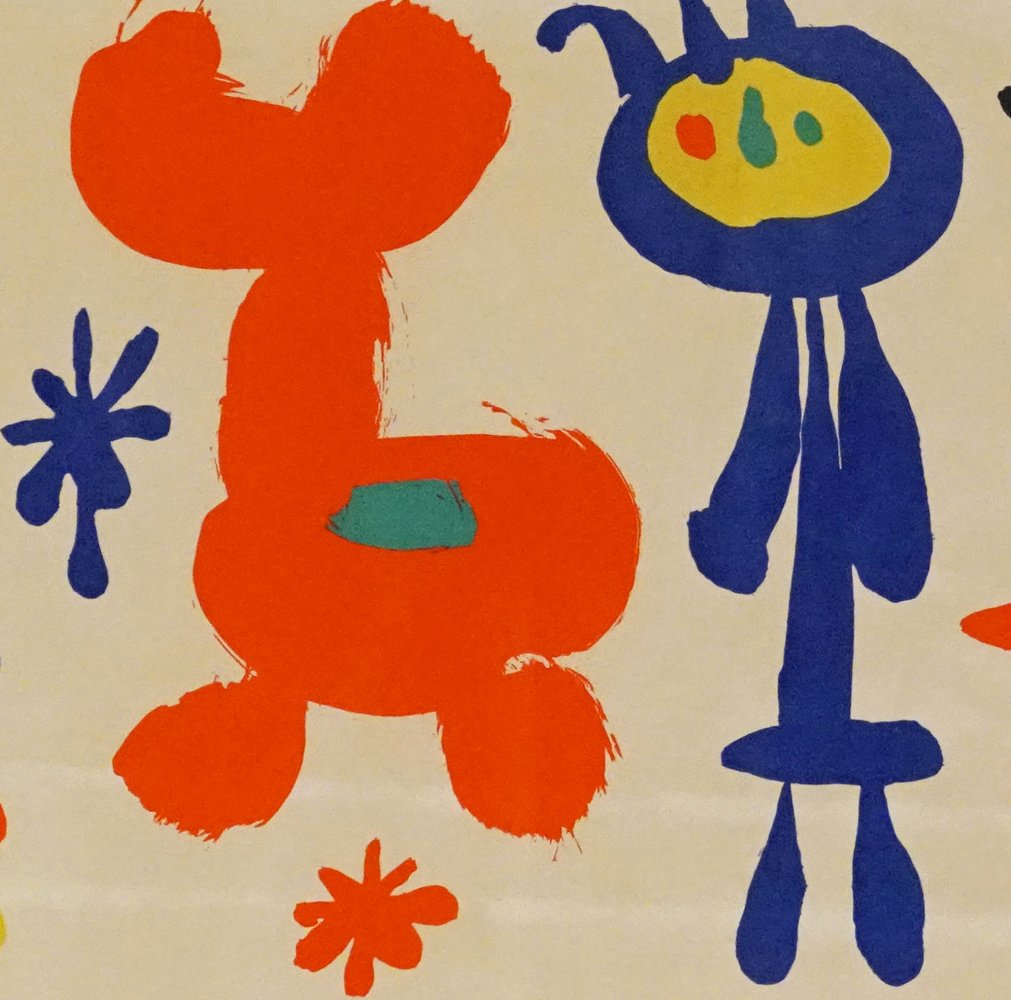 Spanish, 1893–1983
Poster For Exhibition Of 1948 (Galerie Maeght)
Lithograph in colors
56.5 x 41cm (image), 63.5 x 48.5cm (paper). 25 by 19 in. W/frame 30 by 24 in.
This poster, printed by Mourlot, is a rare proof before the final state, outside the edition of 300. Miró created this image for his first solo exhibition, which was held at Galerie Maeght in 1948. The exhibition of 88 works consisted of paintings, works on paper and ceramics. Ref: Mourlot #67, Lewenhaupt #3.
Signed in pencil on image lower left, "Marais" watermark upper left,
Provenance:
Private Collection New York
Le Trianon Fine Art & Antiques
Inventory Number: Art M357
See Artist Bio below.
Spanish, 1893–1983
Joan Miro was born in Barcelona, Spain on April 20, 1893, the son of a watchmaker. From 1912 he studied at the Barcelona Ecole des Beaux-Arts and the Academie Gali. In the first quarter of the 20th century, Barcelona was a cosmopolitan, intellectual city with a craving for the new in art, music and literature. But it was not the place where great art was being made. That place was Paris and Miro established himself there at the age of twenty-six. He made friends with Pablo Picasso, Alexander Calder, Ernest Hemingway, Max Ernst and Paul Klee and was accepted as a Surrealist, looking stronger as the years went by. He lived alone in Paris in total poverty, but everytime he went out he wore a monocle and white spats. He kept his brushes clean, waxed and polished the floor of his studio and arranged his canvases in neat order.
Miro went about his career with orderly determination. He wrote to Picasso in 1929 that he was looking for a studio, a dealer and a wife. That same year he married the daughter of family friends. Her name was Pilar Juncosa and they were happily married in 1929 and were together for fifty-four years. They had one daughter, Dolores.
Miro was certainly the most distinguished painter of Catalonia; he was intensely proud of that fact. All of his work was conceived in Montroig (the site of his family's farm). Most important of these was the painting named The Farm which did not sell in Paris and was sold finally to Ernest Hemingway for $250.
He was the most enduring of the Surrealist artists; he first visited the United States in 1947 in order to execute a mural Commission in Cincinnati, Ohio. His reputation had preceded him and he had already had enormous influence on such American artists as Adolph Gottlieb and Mark Rothko, who had adopted his Surrealist automatism and mysterious primitive symbols for their own purposes.
Miro had tried his hand at ceramics, bronze sculpture, printmaking, book illustration, posters, costume design, etc. He was seventy-nine years old when he began his series of monumental bronzes. When he was eighty, he joined forces with a young Spaniard named Josep Royo who was a weaver of tapestries. Miro would spread Royo's tapestries on the floor and proceed to design changes, adding all kinds of materials, painting some areas, even burning areas. The result was a series called Sobreteixims. Miro has transformed the Royo tapestries from admirable folk art into perhaps masterpieces.
He died on Christmas Day in 1983 in Palma Majorca where he had lived and worked for several years.
Top