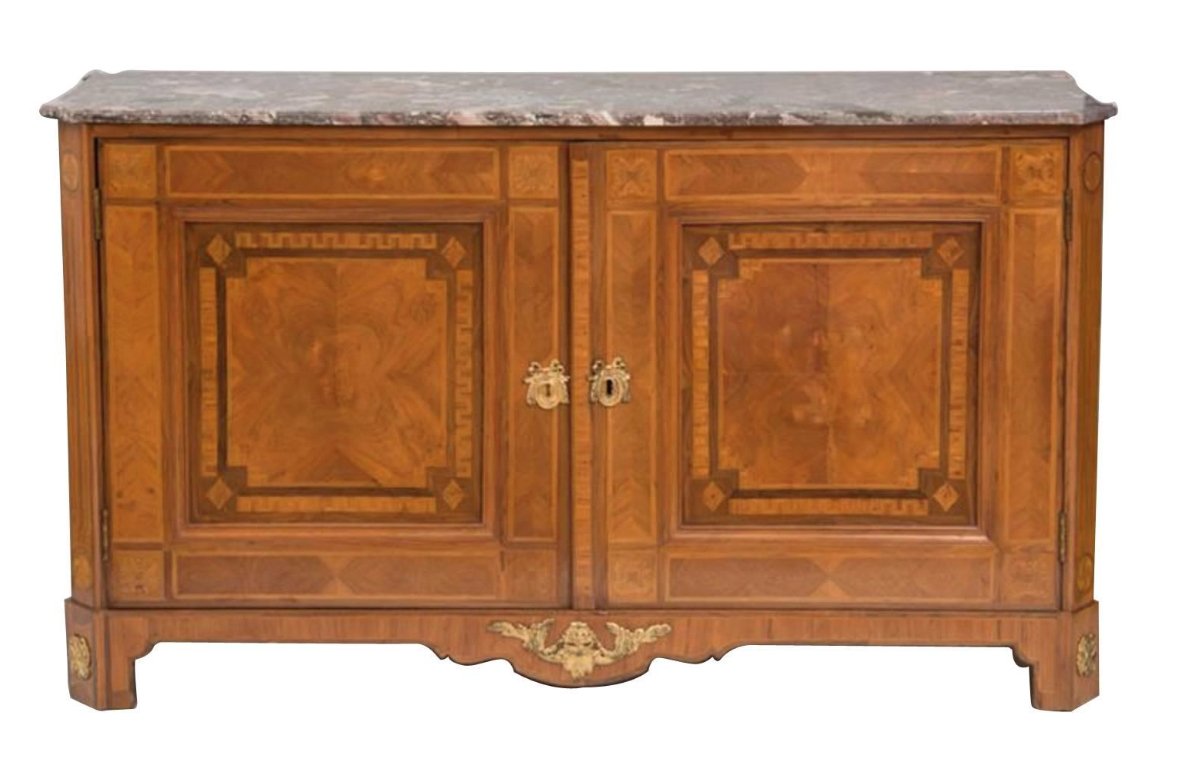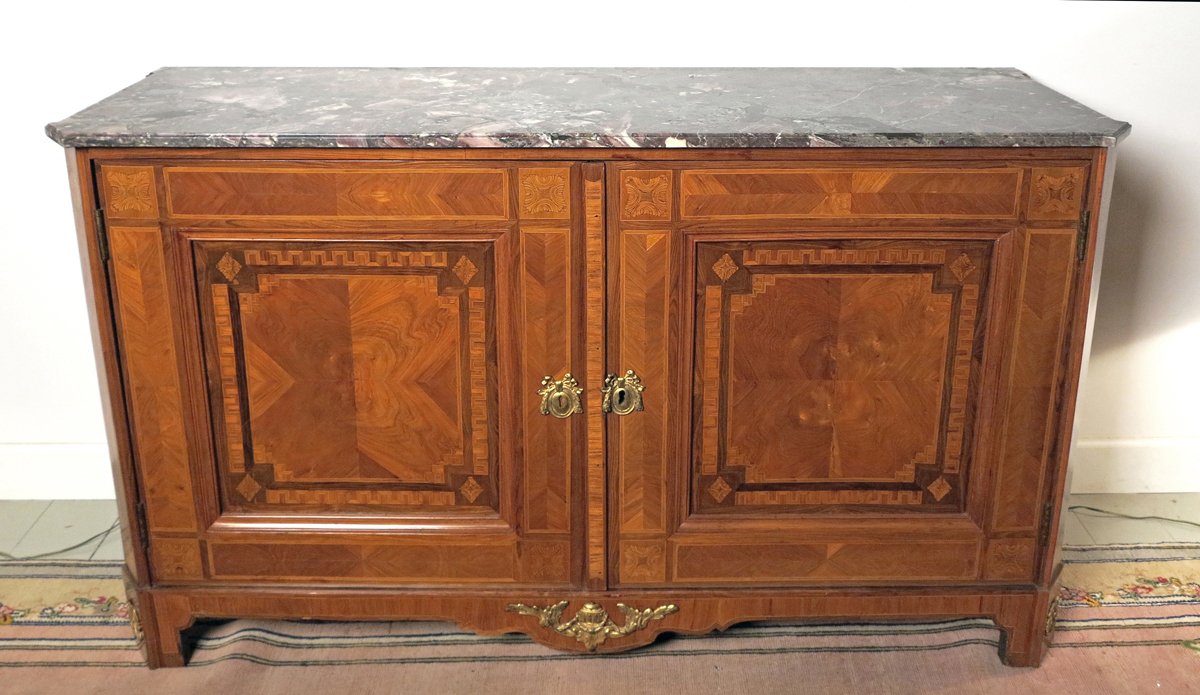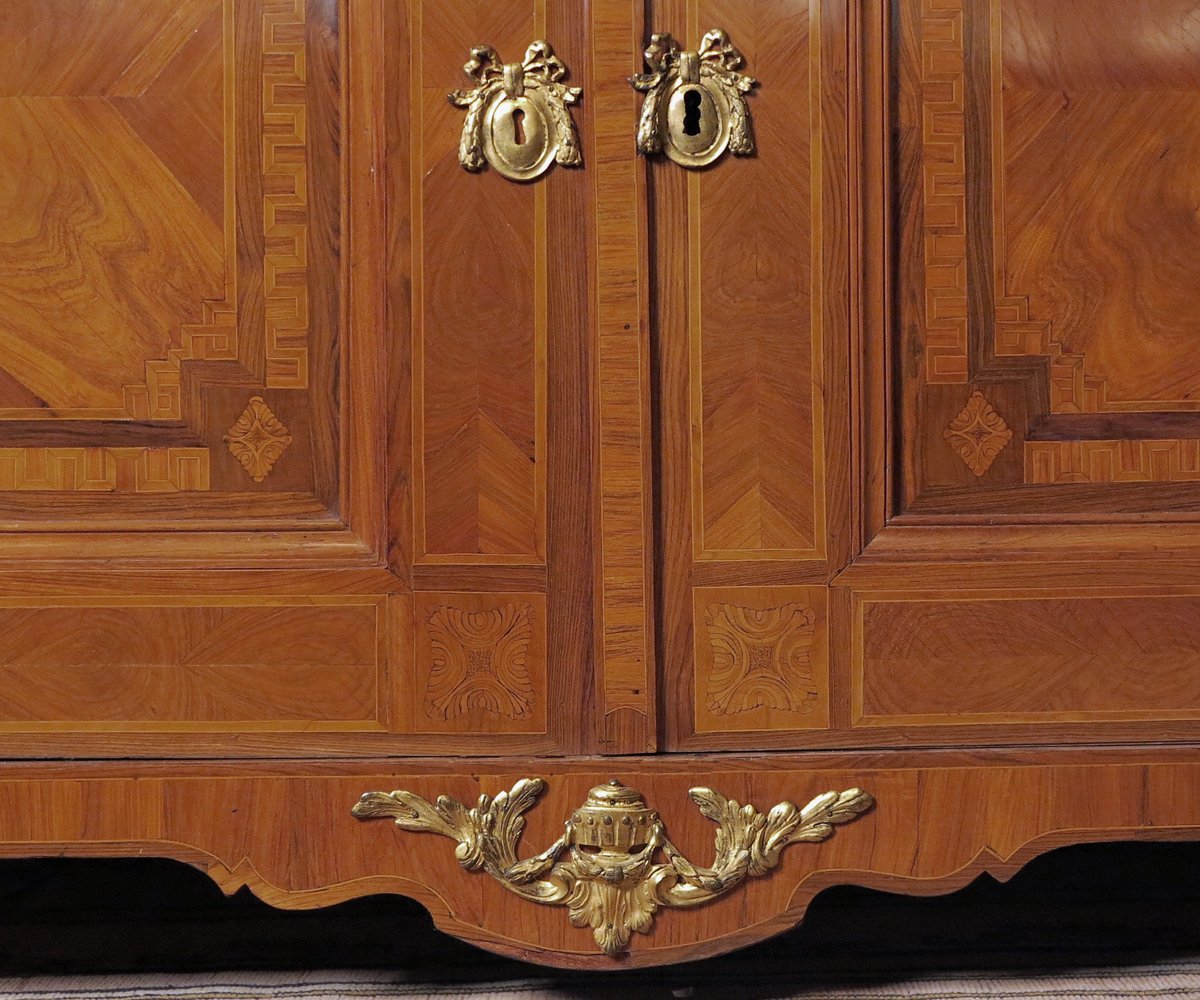 18th Century
Jacob Kaufman Maitre 1770
With a shaped rectangular marble top over two cupboard doors opening to a shelfed interior all resting on bracket feet. With marquetry inlaid throughout and bronze mounts.
Jacob was born in Germany in 1745. He married twice, in 1770 with Jeanne Rochette in Saint-Pierre and Saint-Saturnin church in Lyon and in 1772 with Anne Rougier in the same parish. He had a son, Paul, himself a cabinetmaker. He obtained his Master of Arts in 1770. Belonging to the Saint-Pierre and Saint-Saturnin church in the peninsula, he worked successively rue des Deux Angles, quai de Retz and finally 58 street of the Old Mint where it is still mentioned in 1808.
Jauffman always affixed his stamp on the leveled a furniture amount. Its production is of Louis XV style, Transition and Louis XVI. We can mention table games Transition inlaid with a checkered plate flanked by two panels decorated with flowers surrounded by a set of nets, a small writing table Louis XV violet wood veneer to the point of Hungary, frames in Greek nets, sold March 20, 1983 in Versailles, a small dresser tomb two rows of drawers, veneer curling alternating clais wood and darkest or a small Louis XVI commode, wooden tray inlaid jump facade . A document found in the archives of Lyon, reports that there was an altercation between Jauffman and Tairraz.
BIBLIOGRAPHY
The provincial cabinet in France in the eighteenth century and Abraham Nicolas Couleru - Bernard Deloche and Jean-Yves Mornand - Publishing faton – 2011
Dimensions:
Height 38 in. Width 65 in. Depth 22 in.
Inv#:
Cab41
Top